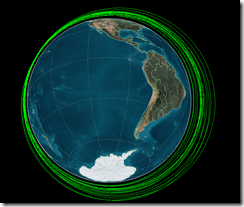 In a somewhat surprising move, NORAD released orbital elements of debris of the USA 193 satellite (29651, 2006-057A), intercepted on February 21st (UTC). Seventeen debris have been reported so far - they got numbers from 32502 to 32518.
The collision was pretty violent - some of the debris got kicked to orbits with apogees of about 1600-1900 km. USA 193 itself was on a roughly circular orbit with altitude of about 250 km. The debris are losing altitude fairly rapidly, but some of them will probably stay up for a few weeks at least.
UPDATE 02/28/08: NORAD added 13 more USA 193 fragments to the catalog - 32519 to 32531.
UPDATE 02/28/08: There are 15 more - from 32532 to 32546. Meanwhile, NRO postponed the launch of its new satellite, originally scheduled on February 29, 2008 to avoid potential collision with the USA 193 debris.
UPDATE 02/29/08: Ten more - 32578 to 32587.
UPDATE 03/09/08: And 98 more: 32588-32685.
UPDATE 03/29/08: 19 more: 32688-32698, 32700-32704, 32714, 32731, 32749, 32755